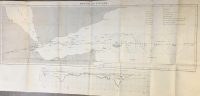 CLOUÉ (GEORGES-CHARLES, VICE-AMIRAL).
8vo. French text, 67 pp., table and figures in text, 1 large folding map: 'Marche du Cyclone', printed grey soft… Smith, Rex G./ Smart, J. R. & B. R. Pridham (editors).
8vo. xxii, 269 pp. English text + 28 pp. Arabic text, b/w illustrations, maps, University of Exeter Press, Exeter, 1996.