AL-FANDI, Muhammad Thabit / Ahmad AL-SHINSHANAWI & Ibrahim Zaki KHURSHID. (Translators).
4to. 687 pp., [1], Arabic text, double column per page, frontispiece portrait of King Fouad the first with tissue guard,…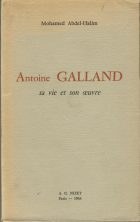 8vo. 547 pp., publisher's original wrappers, slightly faded, biblio, index, copy in very good condition, A. G. Nizet, Paris, 1964.